Absolut Warhola
In Cinema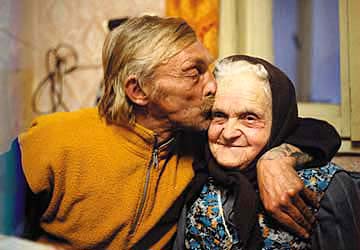 Absolut Warhola
Documentary, D 2001, 35mm, Color, 1:1,66, optical sound (Dolby SR), 80 min.
Original languages: Ruthenian, Slovakian
Subtitles: German, English
A production of strandfilm in coproduction with PANDORA FILM Supported by: Filmfunds Hamburg, Hessen film funds, Junger Deutscher Film.
Distributor: PEGASOS FILM / International distributor: MEDIA LUNA FILM, KöLN
Premiere: Andy Warhol Museum in Medzilaborce 13.09.2001: World premiere with Andy Warhol's family coming from the USA and Slovakia)
This journey possibly lasts forever and leads to nowhere. Sometimes the car drives through rain and snow of a late winter, then again through the brimming green of a perfect summer. It seems as if time has stood still. No street signs show you the way. Yet there is one goal: the »Ruthenian Bermuda Triangle«. That's how Stanislaw Mucha calls that lost area »where everything disappears«. Here in the Slovakian border triangle, close to the Polish and the Ukrainian borders, the 31-year-old Polish director tracks down Europe's only pop art museum. Medzilaborce is the name of the town, a place so remote that it would not be worth the effort to learn the correct pronunciation of its name – if it were not for its connecting lines with the rest of the world. They reach as far as Manhattan.
ABSOLUT WARHOLA at film festivals
16.-17.02.2002: Berlinale 2002 - Perspective German cinema
18.-19.11.2001: Kassel documentary film festival
08.-17.11.2001: 50. International film festival Mannheim-Heidelberg – in competition - Audience award
05.-11.11.2001: 25. Documentary film festival Duisburg – Audience award
16.-21.10.2001: 44. International film festival Leipzig in the international competition (premiere) – Audience award, Don Quijote Award, best camera work
Grimme-Preis 2003: Award for Stanislaw Mucha (Book/Director) and camera (Susanne Schüle)
National center for Political Education: Prize for the best sociopolitical film 2001
DEFA foundation: young talent award for director und camera 2001
German film review: Best documentary of 2001.